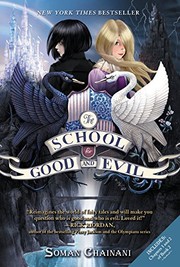 FIC CHA
The School for Good and Evil
New York, NY : Harper, an imprint of HarperCollinsPublishers, 2014.
488, 13, 26 p. : ill., map ; 20 cm.
Best friends Sophie and Agatha discover their true identities when they enter The School for Good and Evil, a school where ordinary boys and girls are trained to be fairy tale heroes and villains.
Reading Level: 5.2
Available
BOOKS
1 copy available at Armuchee Middle School
| | |
| --- | --- |
| ISBN: | |
| LC Call No: | PZ7.C34874 Sch 2014 |
| Dewey Class No: | [Fic] 23 |
| Author: | |
| Title: | The School for Good and Evil / Soman Chainani ; illustrations by Iacopo Bruno. |
| VaryingTitle: | |
| Edition: | 1st pbk. ed., 2014. |
| Publisher: | New York, NY : Harper, an imprint of HarperCollinsPublishers, 2014. |
| Publisher: | Ã2013. |
| Physical: | 488, 13, 26 p. : ill., map ; 20 cm. |
| Series: | |
| Notes: | "The school years"--Spine. |
| Citation/Refs: | School Library Journal, June 2013 |
| Citation/Refs: | Booklist, May 2013 |
| Citation/Refs: | Bulletin (Center for Children's Books), June 2013 |
| Citation/Refs: | Publishers Weekly Annex, June 2013 |
| Summary: | Best friends Sophie and Agatha discover their true identities when they enter The School for Good and Evil, a school where ordinary boys and girls are trained to be fairy tale heroes and villains. |
| Target Audience: | |
| Target Audience: | |
| Subject: | |
| Subject: | |
| Subject: | |
| AE:PersName: | |
| SAE:PersonlName: | |
| Link: | |
| Link: | |
| Field | Ind | Subfield | Data |
| --- | --- | --- | --- |
| 001 Control No | | | 21849 |
| 005 LastTransaction | | | 20210210031649.0 |
| 008 Data Elements | | | 140411t20142013nyuab c 000 1 eng d |
| 020 ISBN | | $a ISBN | 978-0-06-210490-8 |
| 035 System Ctrl No | | $a System control number | (ICrlF)0784RP |
| 035 System Ctrl No | | $a System control number | (ICrlF)fol15140579 |
| 040 Cataloging Src | | $a Original cataloging agency | ICrlF |
| | | $b Language of cataloging | eng |
| | | $c Transcribing agency | ICrlF |
| | | $d Modifying agency | ICrlF |
| 050 LC Call No | 4 | $a Classification number | PZ7.C34874 |
| | | $b Item number | Sch 2014 |
| 082 Dewey Class No | 04 | $a Classification number | [Fic] |
| | | $2 Edition number | 23 |
| 100 ME:PersonalName | 1 | $a Personal name | Chainani, Soman. |
| 245 Title | 14 | $a Title | The School for Good and Evil / |
| | | $c Statement of responsibility | Soman Chainani ; illustrations by Iacopo Bruno. |
| 246 VaryingTitle | 3 | $a Title proper/short title | School for Good & Evil |
| 250 Edition | | $a Edition statement | 1st pbk. ed., 2014. |
| 260 PublicationInfo | | $a Place of publication, dist. | New York, NY : |
| | | $b Name of publisher, dist, etc | Harper, an imprint of HarperCollinsPublishers, |
| | | $c Date of publication, dist, etc | 2014. |
| 260 PublicationInfo | | $c Date of publication, dist, etc | Ã2013. |
| 300 Physical Desc | | $a Extent | 488, 13, 26 p. : |
| | | $b Other physical details | ill., map ; |
| | | $c Dimensions | 20 cm. |
| 490 SeriesStatement | 1 | $a Series statement | School for Good and Evil ; |
| | | $v Vol. no./sequential designatn | book one |
| 500 General Note | | $a General note | "The school years"--Spine. |
| 510 Citation/Refs | 3 | $a Name of source | School Library Journal, June 2013 |
| 510 Citation/Refs | 3 | $a Name of source | Booklist, May 2013 |
| 510 Citation/Refs | 3 | $a Name of source | Bulletin (Center for Children's Books), June 2013 |
| 510 Citation/Refs | 3 | $a Name of source | Publishers Weekly Annex, June 2013 |
| 520 Summary | | $a Summary, etc. note | Best friends Sophie and Agatha discover their true identities when they enter The School for Good and Evil, a school where ordinary boys and girls are trained to be fairy tale heroes and villains. |
| 521 Target Audience | 0 | $a Target audience note | 5.2. |
| 521 Target Audience | 2 | $a Target audience note | 5-8 |
| | | $b Source | Follett School Solutions. |
| 650 Subj:Topic | 7 | $a Topical term | Friendship |
| | | $v Form subdivision | Fiction. |
| | | $2 Source of heading or term | sears |
| 650 Subj:Topic | 7 | $a Topical term | School stories. |
| | | $2 Source of heading or term | sears |
| 650 Subj:Topic | 7 | $a Topical term | Good and evil |
| | | $v Form subdivision | Fiction. |
| | | $2 Source of heading or term | sears. |
| 655 IT:Genre | 7 | $a Genre/form data or focus term | Fantasy fiction. |
| | | $2 Source of term | lcgft. |
| 700 AE:PersName | 1 | $a Personal name | Bruno, Iacopo, |
| | | $e Relator | ill. |
| 800 SAE:PersonlName | 1 | $a Personal name | Chainani, Soman. |
| | | $t Title of a work | School for Good and Evil ; |
| | | $v Volume/sequential designation | bk. 1. |
| 852 Holdings | 1 | $h Call number | FIC CHA |
| | | $i Item part | CHA |
| | | $p Barcode | 106681 |
| | | $9 Cost | $14.33 |
| | | $a Location | AMS |
| 856 ElectronicLocat | 4 | $3 Materials specified | Cover image |
| | | $u Uniform Resource Identifier | https://covers.openlibrary.org/b/id/7879561-M.jpg |
| 856 ElectronicLocat | 4 | $3 Materials specified | Author photo |
| | | $u Uniform Resource Identifier | https://covers.openlibrary.org/a/olid/OL3945898A-M.jpg |
| 940 | 1 | $a | 5.2 |
| | | $b | 5-8 |
| | | $d | 01/14/21 |
| | | $s | School Library Journal, June 2013 |
| | | $s | Booklist, May 2013 |
| | | $s | Bulletin (Center for Children's Books), June 2013 |
| | | $v | FSS |